FC SPOTLIGHT: Chella Man
Posted on October 12 2017 || By Chella Man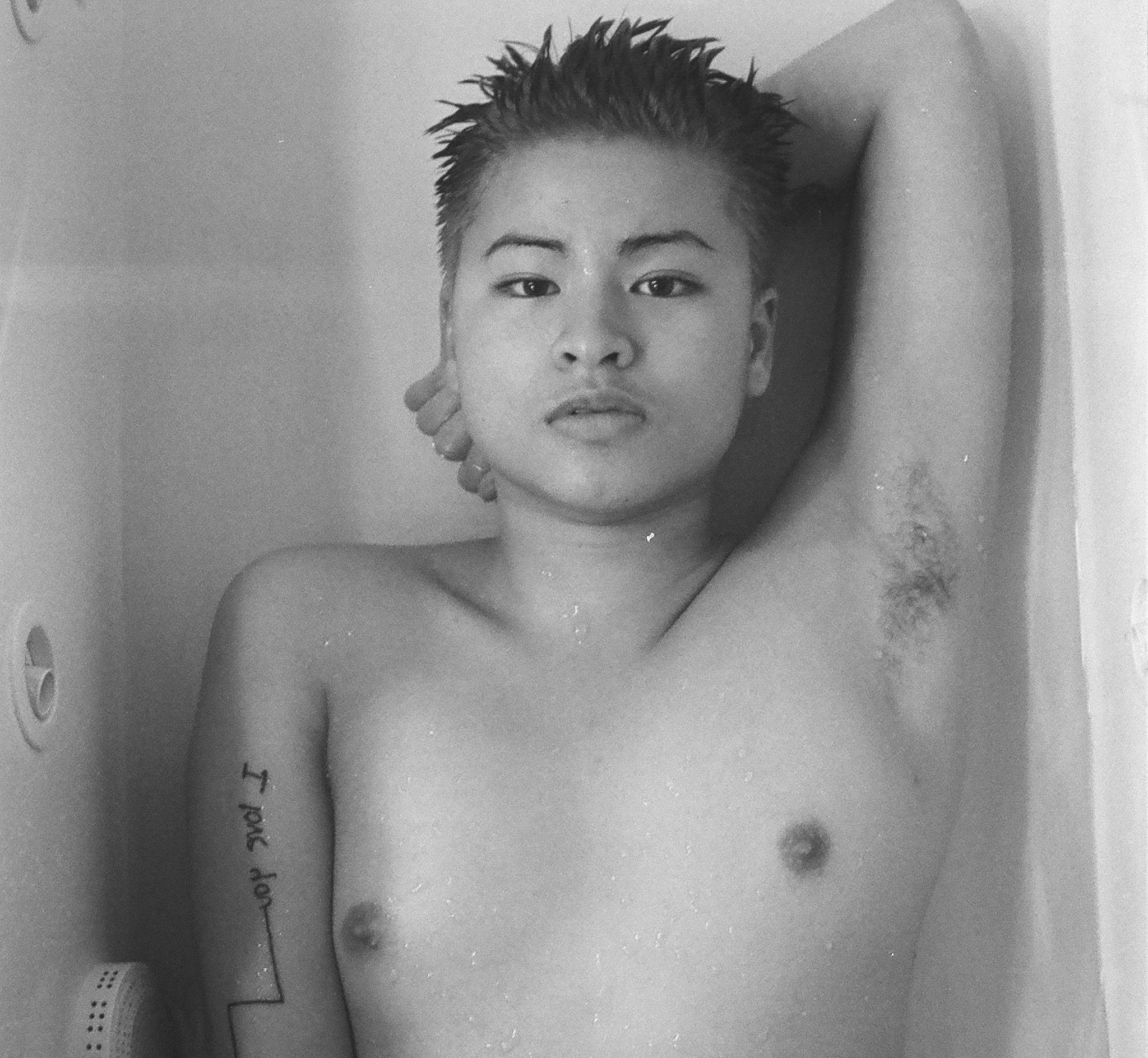 This is part of the documentation photo for my transition on testosterone. Taken by MaryV Benoit on 35mm.
---
Name: Chella Man
 
Pronouns: They/them
 
Location: Brooklyn, New York
 
Age: 18
 
Preferred art medium: Acrylic Paint, Black Ink
Three words that describe your current artistic style: Fluid, Genderless, Bold
What is your favorite Feminist Apparel item currently for sale? Destroy The Gender Binary T-Shirt by Kylee Jo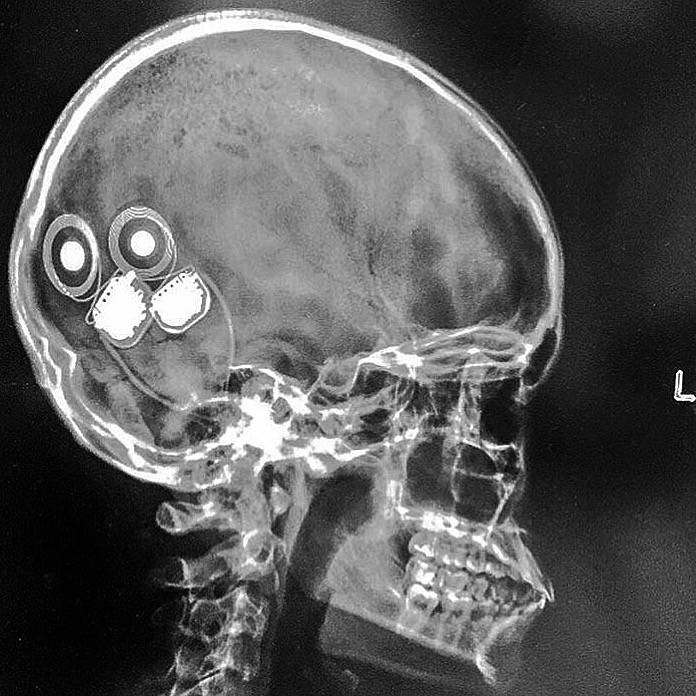 This is an x-ray of my skull. My two cochlear implants are visible here.
All of our favorite superheroes have an origin story, what's yours?
Art has always been my way of survival. It was my daily catharsis as I struggled with being deaf and coming to terms with being queer and genderqueer. Instead of basing my creations off of the negative points of these struggles, I focused on the activism for these communities today. This focus opened up the world of feminism to me. This new found community of equality is just one of the communities that have welcomed me with open arms. Today, I stand side by side with all who fight for inclusiveness and equality.
What do you do for work?
I skipped senior year of high school after I was accepted into The New School's early acceptance program for Juniors. It was a dream to leave my horrible, small town high school to pursue art and technology in New York City. I would say I am now both a full-time artist and student.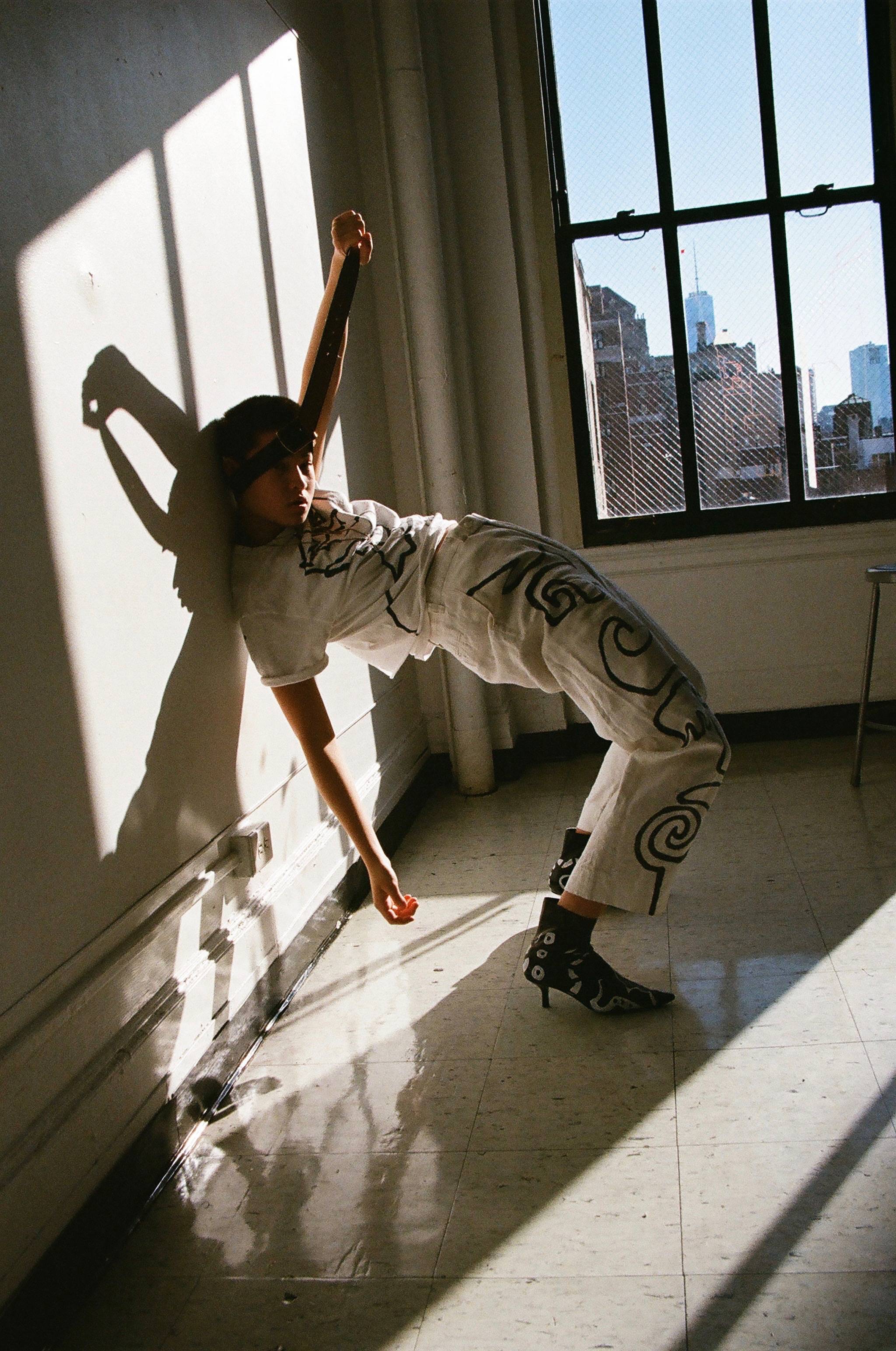 For this shoot, I painted on everything… even my shoes. Photo by Myles Loftin 35mm.
And perhaps more importantly... what do you like to do for fun?
Paint on clothes. Film. Run. Drink coffee. Collaborate with others. Translate my favorite songs into ASL. Talk openly about gender. Play guitar. Rubik's cube.
 
Are you a self-taught artist or did you go to school for art?
Self-taught artist
Pick one of your favorite designs that you are currently selling in Feminist Apparel's store and let us know about the creative process behind it!
All of Who You Are, my current t-shirt on sale, was drawn with my younger self in mind. It goes out to anyone young struggling with embracing their true identity. In short, it's something I wish I was told at my lowest points.
Do you identify as a feminist? Why or why not? Yes. I believe in the social and political equality of all humans.
You have the ability and power to create anything you please, why do you design art that has a feminist message?
The message of equality and inclusiveness is the basic foundation all of my art is built upon. Feminism falls under this huge umbrella of categories.
What are you reading and/or listening to right now? Any recommendations?
I'm currently reading economic textbooks (lol) because I'm thinking about majoring in it as well as my other major, design and technology.
Dream dinner party guests and why - go!
My grandpa. He died of cancer when my mother was fourteen years old. I think it's insane that I am genetically 25% of someone who I have never had the pleasure of meeting.
What cause/issue has your attention right now? Why is it important to you? And can you please share one action that people may be able to do to help?
GENDER NEUTRAL BATHROOMS. It's a personal issue to me as I never know which to go into. I have already been verbally confronted. Support your local transgender/genderqueer individuals. Ask if they would like company if they have to go to the bathrooms! This can make a HUGE difference in their day or even their life.
Are you working on any creative and/or activist related projects now? If so, tell us about it!
Yes! I am working with a bunch of different artists on documenting my current journey as I start testosterone and work towards top surgery. This involves photography with three different artists and film with one. By the end, I hope to open a small gallery showcasing this genderqueer, trans journey. All proceeds will go to pro-queer organizations.
Finally, before you go, what is one tip you have for young Feminists who are looking to get involved and make an impact in a meaningful way?
Team up with other equality seeking individuals in your area and brainstorm a huge list of project ideas based around equality and inclusiveness. DO ONE OF THE IDEAS. Submit it here or to Rookie, Dazed, I-D, Paper, etc. You never know; it could blossom.
Special Message from Chella*
I recently told my family I am genderqueer/started to transition to trans masculine.
This video is based around a letter my mom wrote me shortly after:
https://www.youtube.com/watch?v=fW1Cnw6P1m0
Contact Chella
Instagram: @chellamanart and @chella.man
Email: 26chellaman@gmail.com
Twitter: @chellamanart
---